If you are an avid powder hound then one day is not going to quench your thirst for the deep and fluffy. Make the most of your time by heading out with our guides for two days of powder bliss. We will get you to the goods without the mucking around of trying to find routes in hope that they haven't been poached.
We choose from a variety of resorts within the Kitashinshu area including; Nozawa, Madarao, Myoko + other secret stashes. We will take you to the BEST locations for the conditions on the day and your groups ability.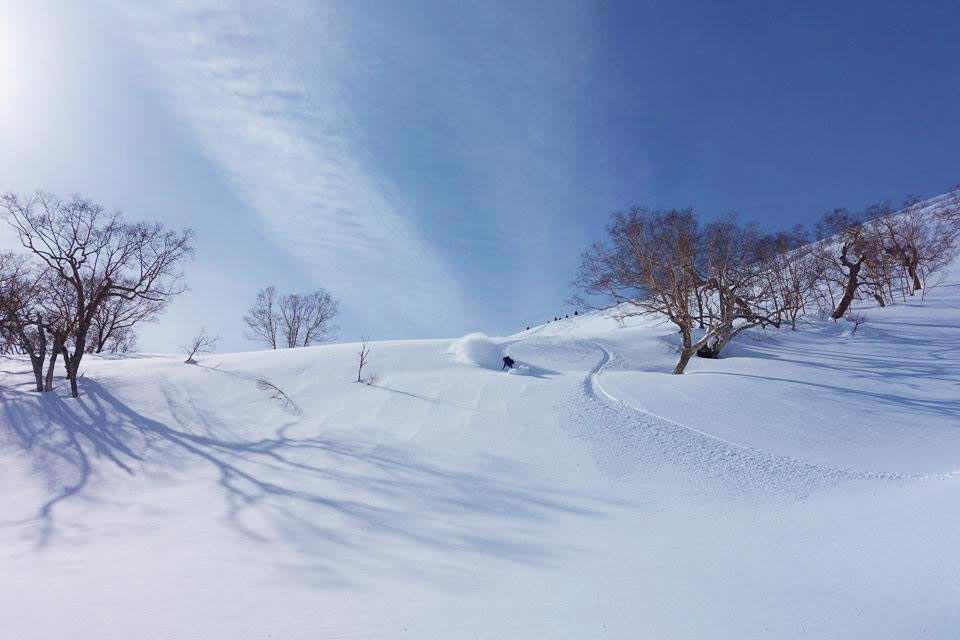 DEPARTURE/RETURN LOCATION
Nagasaka Gondola BC Office (beside patrol), Nozawa
SEASON
Jan 15th – March 15th
MEETING TIME
Please arrive by 7:00AM
RETURN TIME
Approximately 16:30 – 18:30 (course dependent)
REQUIREMENTS
Age 13 and older + Intermediate level ski/snowboarder or above.
Participants under 20 must have signature of guardian or parent.
A moderate level of fitness is required. The fitter the group the more extensive the touring options.
BRING
Ski/Board, Boots, Ski clothing, Gloves, Helmet,Goggles, ski poles with BIG baskets, drink, snacks, sandwich/food
INCLUDED

| | |
| --- | --- |
| Professional guide | Avalanche transciever |
| Probe | Shovel |

NOT INCLUDED

Ski/Snowboard equipment
Lift ticket
Lunch
Additional information
| | |
| --- | --- |
| Groupsize | 8 |
| Location | Nozawa |
| Skill level | Beginner, Intermediate |
| Resort | Nozawa |
7.00 AM – 7.30 AM: Orientation
Organise and check gear for the day
Discuss days conditions and planned routes with guides
Fill out mountaineers card
7.30 AM – 8.30 AM: Lifts
Transfer to designated resort for the day
8.30 AM – 9.30 AM: Lifts
Take the lifts to the BC access point for the day and do basic beacon checks.
9.30 AM – 10.00 AM: Hike 1
A short hike will take you to the first powder area of the day.
10.30 AM – 10:45 AM: First run of the day
Time to crank that smile and enjoy the powder that "Snowzawa" is famous for.
10:45 AM – 11.15 AM: Hike 2
A short hike and lift ride will bring you back to the top of out BC area.
11.15 AM – 11.45 AM:Second run
Another pristine powder field ready for you to make your mark.
11.45 AM – 13.00PM: Hike and lunch
Another short hike, lift and then lunch before we take on the afternoon.
13.00PM – 15.30PM : More powder
Nothing better for after lunch than chomping into some more powder. Guides will make the most of conditions by choosing routes perfect for your group. 
15.30PM – 17.30PM : Homeward bound
Time to head back to base camp, return gear and have a beer with your guides.