Myoko area, with its many resorts, offers great lift access and easy approaches to some of the longest backcountry runs in Japan!

Myoko is located close to the Japan sea and is famous for its massive storms that bring consistent deep powder to the area. Combine that with spectacular mountain views and great local hot spring and you have the recipe for some great backcountry and apres! If you are looking for a classic day of Japanese tree skiing and you are reasonably fit then the Myoko backcountry tour is for you.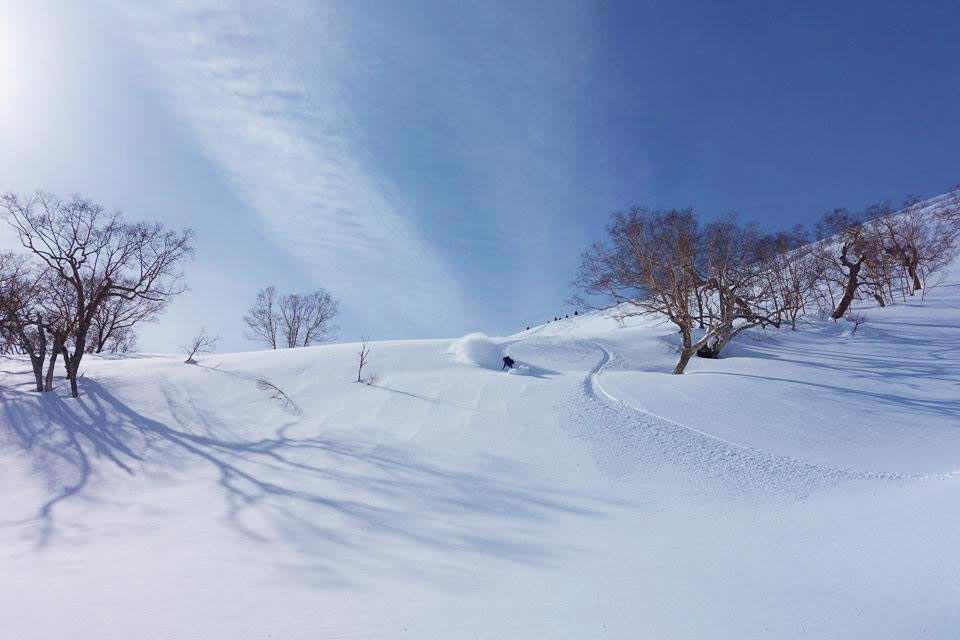 The route will be chosen and customised by your guide to match you skill & experience level of your group
Routes and skill levels
Whether you are a newbie to backcountry looking to learn how to use all the gear and access some untracked powder, or a veteran of the BC looking for something steep and deep, we will design a private tour to fit your needs! If you are looking for especially big days with big terrain, a private tour is your best option. If you are interested in sharing a guide with a group, we only run group tours in Nozawa Onsen.
If you are looking for especially big days with big terrain, ask us about our private tours!
DEPARTURE/RETURN LOCATION
If you are staying in Nozawa, we will be able to take you from your accommodation to the destination of the tour, then drop you back at the end of the day. If you are staying elsewhere, we will let you know the meeting point in the destination resort before the day of the tour.
SEASON
Jan 15th – March 15th
MEETING TIME
Please arrive by 8:00AM
RETURN TIME
Approximately 16:00 .
REQUIREMENTS
The minimum age to join our tours is 13 years old.
Participants under 18 need a guardian to be present on the tour.
Participants under 20 need a signature from a guardian.
A minimum level of fitness and downhill skiing/riding ability is required for our tours. For this location, a minimum of L2 is required for fitness and ability. Please refer to our levels.
BRING
Ski/snowboard, boots, ski clothing, gloves, helmet, goggles, ski poles with BIG baskets, lunch, plenty of snacks and water
INCLUDED

| | |
| --- | --- |
| Professional guide | Avalanche transciever |
| Probe | Shovel |

NOT INCLUDED

Ski/Snowboard equipment
Lift ticket
Lunch

LIFT TICKETS
Lift tickets are not included in the price of the tour. Please wait until the morning of the tour to purchase lift tickets so that the guide can advise you on the type of ticket required.
8.00 AM – 8.30 AM: Orientation
Organise and check gear for the day
Discuss days conditions and planned routes with guides
Fill out mountaineers card
8.30 AM – 9.30 AM: Lifts
Take the lifts to the BC access point for the day and do basic beacon checks.
9.30 AM – 10.00 AM: Hike 1
A short hike will take you to the first powder area of the day.
10.30 AM – 10:45 AM: First run of the day
Time to crank that smile and enjoy the powder that Myoko is famous for.
10:45 AM – 11.15 AM: Hike 2
A short hike and lift ride will bring you back to the top of out BC area.
11.15 AM – 11.45 AM:Second run
Another pristine powder field ready for you to make your mark.
11.45 AM – 13.00PM: Hike and lunch
Another short hike, lift and then lunch before we take on the afternoon.
13.00PM – 15.30PM : More powder
Nothing better for after lunch than chomping into some more powder. Guides will make the most of conditions by choosing routes perfect for your group. 
15.30PM – 16.30PM : Homeward bound
Time to head back to base camp, return gear and have a beer with your guides.